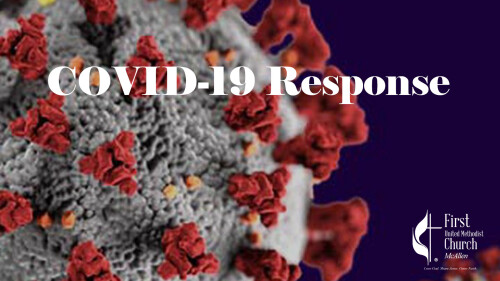 Effective Monday, June 29th
The rising number of positive cases in the Hidalgo County is a concern for our community and for FUMC McAllen.
Unfortunately, Pastor Perales' wife has tested positive as well as his father. Please keep them in your prayers and be aware. This is not meant to inflict panic, however we do feel it is important to inform members of our community about these unfortunate circumstances.
Due to said circumstances, starting on Monday, June 29th, most of the church staff will be working from home; all can be reached via email or their cell phones. For emergencies, please contact Debbra Stolley, church office administrator, at (956)655-1889.
.................................March 2020......................
Over the last few weeks, we have all seen the incredible global changes occurring as a response to the rise in cases of COVID-19. Effective March 20, many of those changes have come to Texas as the number of cases, and deaths, rises. Because of our new reality, the church is taking action to best ensure the health and well-being of our members and frequent guests. Below are our responses to some frequently asked questions.
How is COVID-19 impacting worship at FUMC?
As of March 22nd, we are suspending our normal worship schedule. Worship services will be provided online, via the website and Facebook, beginning March 22nd. To see our online worship videos, please click the button below:
How long until we return to a normal worship schedule?
As of now, we plan to return to our normal worship schedule on April 12th. However, we are closely monitoring the guidelines presented by the government and will do our best to follow their recommendations to ensure the health and safety of our members and frequent guests.
Are we having normal mid-week activities?
Effective immediately, all church activities have been canceled to ensure the health and well-being of all involved.
Is the office open?
As of March 18th, the church will be maintaining our usual office hours, while practicing the recommendations of social distancing.
Will the church provide any other online gathering times?
While we are yet to release a schedule of online opportunities for gathering, we hope to have some options available early next week that will include devotionals, prayer, and bible studies. More to come soon.