FUMC Columbarium
The columbarium at First UMC McAllen is a place where the ashes of loved ones are kept. This allows people to be able to visit those that have gone to be with the Lord here at the church. It is located in our Prayer Garden, providing our dearly departed a beautiful and tranquil place to spend the rest of their days.
Frequently Asked Questions:
What is a Columbarium?
A columbarium is a place designed to hold the ashes of a deceased person in a closed container called an urn.
How many spaces are available?
The First UMC Columbarium was built with 54 niches, each containing space for two urns. For updated information on how many niches are available, please contact the church office.
What is the cost for a niche?
Each niche costs $1700. This includes the aforementioned space for two, separate urns, along with an inscribed granite faceplate.
What if I want to honor a loved one who has already made burial arrangements?
If you are interested in honoring a loved one in the First UMC Columbarium who has already made arrangements for their ashes, or is not being cremated, we have a memorial wall. The memorial wall is on the backside of the columbarium and houses memorial plaques. These plaques are 5"x8" bronze plaques that will contain up to two names plus year of birth and death.
How much does a memorial plaque cost?
The cost for a memorial plaque is $250. This cost is all-inclusive.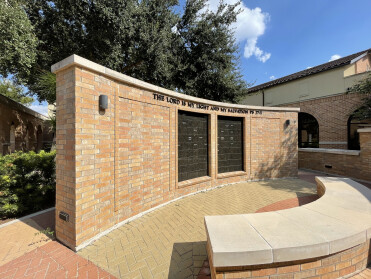 Please contact the church office to obtain any additional information about purchasing a niche or memorial plaque.