bible studies and small groups
A variety of Bible studies and book studies are offered for adults throughout the year to help participants increase in knowledge of the scriptures and spiritual practices and grow in their relationship with God. All are invited to participate in the ministries and studies of FUMC McAllen. Childcare is available during all church programs and events. For more information regarding Bible and book studies, call the church office at 956-686-3784.
The Young at Heart Group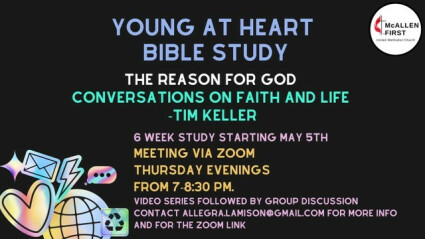 The Young at Heart Group invites anyone interested in growing in their relationship with Christ. They meet via Zoom on Thursdays from 7:00-8:30 pm. See more information above and contact Allegra at for Zoom details.
S.E.E.D Groups
Support, Encourage, Exhort, Disciple


Seed Groups are communities of people who Love God and Share how Jesus is actively transforming their lives as they Grow in Faith together. The women's Seed Group meets on Tuesday mornings at 11:00 am in the Koinonia Room. Call the church office, 956-686-3784, for more information. A co-ed SEED group meets via zoom on Tuesday evenings at 6:30 pm. Contact Tony Micheletti, 956-566-4417, for more information about the co-ed SEED group.