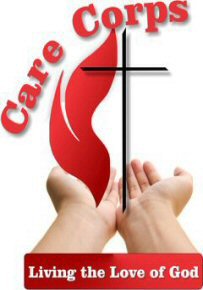 But, Master, when did we see you sick and come to you? Whenever you did it to anyone overlooked or ignored, that was me--you did it to me.
Matthew 35:40
The mission of the Care Corps is to extend Christian care and concern through prayer, notes, calls, visits and other expressions of love. We want to pray for and care for our members, visitors, church staff, and the community at large, building them up individually to make the church stronger collectively in carrying forth the gospel of Jesus Christ.

The Church Family list is the basis of our outreach, combined with referrals from staff, team members, congregants, and our community. The teams of the Care Corps work together in this ministry to bring the love of God through our church to those who often are outside the walls of the church.
Let Us Pray
We seek to grow closer to God through prayer and to learn what God has in mind for us, for our pastors and staff, for the global and local church, and our church family as we work together to make disciples of Jesus Christ for the transformation of the world. Bring your questions, praises, concerns, prayer requests, and you. We meet at noon on the first Tuesday of the month in the Keystone Room.
Card Writing Team
The Care Note Team writes notes on a regular basis to those on the church family list. These cards provide love and care from their church family. If you are interested in writing, contact the church office. Cards, stamps and names/addresses are supplied to you.
Prayer Shawl Team
The Prayer Shawl team makes prayer shawls on their own and meets monthly on the 4th Wednesday at 10:00 a.m. in the Keystone Room. Prayer shawls are a "hug from God and the church family." Contact the church office if you would like to join in.
Visiting Team
The Visiting Team visit those in hospitals, in care facilities, or at home. They deliver pre-made casseroles, altar flowers, prayer shawls and devotional materials when appropriate. Contact the church office for more information.
Communion Team
Communion servers provide communion in homes and care facilities. Communion kits are supplied and communion elements are consecrated by one of our pastors. Training and mentoring are available.
Flower Team
This group meets Monday mornings to arrange flowers from the altar arrangement for weekly delivery.